Solar Hot Water

How The Solar Water Heater Works:
Solar water heaters make use of two natural phenomena for their operation: black objects absorb heat, and hot water rises. It is a simple system, and the only moving part is water.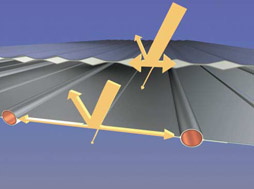 *Commercial Services also available

Will I always have hot water?
The amount of water heated by the sun varies with climate. But even on cloudy, rainy days, there is still some
solar energy being collected by the absorbers.

Water Heater: Roof Unit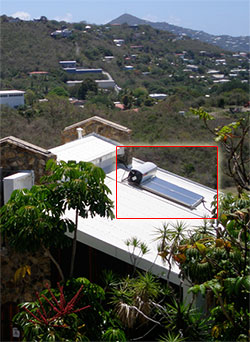 Please See Available Water Heater Systems Here:
PDF Format-Pop Up Window:Hold CNTRL & Click
L Series Brochure (297.74 Kb)

LC and LCS Collector (261.03 Kb)

Warranty
All Solahart systems carry an extensive warranty and our Free Heat Thermosiphon systems are available with an extended warranty.

How Solar Hot Water Systems Work
The high efficiency black polyester powder coated absorber maximizes the transfer of available solar energy while the closed circuit design makes it suitable for any area. The sun heats the water, and this "circular" path continues. When the sun's heat is no longer present, the thermosiphon effect stops, and hot water retained in the storage tank stays hot because of the tank's high density insulation and design.
The double ceramic lined tank has been developed for long life and features additional protection for longer lasting performance.
Water Heater AND Solar Panels for Electricity: Ground Unit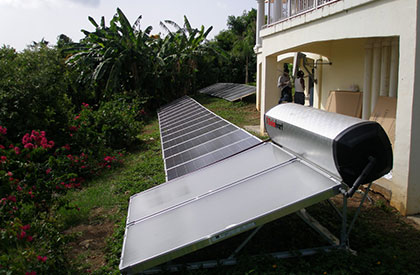 10 YEAR WARRANTY!!!
*SAVE AS MUCH AS 30% OFF YOUR CURRENT UTILITY BILL WITH A SOLAR HOT WATER INSTALLATION*
Contact us for a free quote
Which Solahart System?
We use two of Solahart's three main types of systems: Roof mounted thermosiphon systems and Streamline pumped systems.
Contact us for a Free Estimate
How Much Hot Water Do I Need?
Once you have worked out which is the best type of system we then need to select the number of collector panels and size of tank to meet your household's needs. Our Solahart Experts will be happy to help you with sizing the unit correctly for your individual requirements when you Contact Us. The information we will need to know is:
How many bathrooms and appliances does the water heater need
to serve? (more than one bathroom is the equivalent to an additional person and each appliance connected to hot water is also the equivalent to one additional person)
How large is the dwelling? Where do you live?
Are you building a new home, or are you replacing a water heater
in an existing home
Do you know the capacity/size of the water heater you are
replacing?